✔️ Hotel Sungarden Siófok ****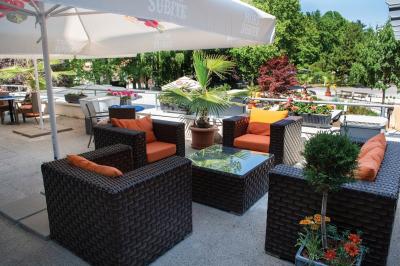 Hotel SunGarden Siofok **** Affordable Wellness Hotel SunGarden Siofok - Lake Balaton Hungary
About our hotel:
You are always welcome to spend a wonderful time in the SunGarden **** Conference & Wellness Hotel, which - after renewing - opened its gates again on the 30th of May in 2003. Earlier it was opened only in the summer time as two-star hotel but now the hotel has four stars and is waiting for the guests with four-star services in all year.
Only 5 minutes walk!!!
It's not so much even if you want to go to the city or to the beach...
Hotel SunGarden Siófok **** Conference & Wellness Hotel lies exactly so far from everything. The hotel lies on the nicest and most romantic street of Siófok with sycamore trees. Our guests can get on an intimate promenade to the beach that can be found 150 meters far from the hotel in a nice environment. The railway- and the bus station are next to the hotel but you can not hear it because of the good statically architecture of the building. Our guests can use a closed parking place for free even for cars and for buses.
Hotel SunGarden Siofok - Rooms:
If you get into the lobby you can find a nice, big place where you can sit and have a drink. With an elevator you can get to your room. Our 58 rooms with bathroom are all equipped with telephone, satellite television, air condition, hair drier and minibar. After renewing we can also offer you two big and nice apartments with elegant furniture. The handicapped people are very important for us, so we have made two nice rooms for them as well. They can move in the hotel without blocks. We have also room service, central safe (in the apartments and in the handicapped rooms we have it separate as well), reception service in 24 hours and bellboy service.
Hotel SunGarden - Gastronomy:
Let us greet you most heartily and invite you to visit our restaurant that is waiting for 100-120 people. We offer you the best Hungarian and international meals on a buffet and we can also prepare for you special menus. Of course you can choose a la carte meals as well (SunGarden menu, SunGarden special menu). The drink bar is waiting for you with several kinds of drinks, coffee specials. You can try our cocktail-balcony as well.
Hotel SunGarden Siófok - Conference:
For special occasions (weddings, conferences) we offer our conference room, where you can serve up to 250 guests. Our conference room is the perfect place for business meetings and trainings. We have two other conference rooms too, which can accommodate for 40 people and the other for 20-25 people. The conference rooms are equipped with television, VCR, OHP and flip-chart board. Upon special request we can provide a projector as well. We have a business centre, where you can have internet connection, fax and a copier. We have a creative team who can help you to make your conference professional. We can also help you to relax after the conference, for example pool-party, extreme and team sport adventure.
The biggest conference room is 17,04 x 16,34 m2, the second is 64m2 and the smallest is 32m2.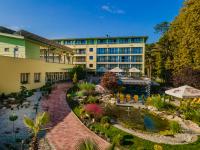 ✔️ Téli wellness akció Siófokon (min. 2 night)

2023.12.01 - 2023.12.22
Téli wellness akció Siófokon (min. 2 éj) 21.900 Ft / fő / éj ártól hétköznap / félpanzió / wellness világ használata / ingyenes WIFI /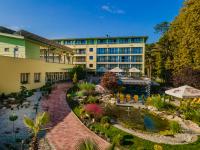 ✔️ Karácsony a Sungarden Hotelben Siófokon (min. 3 night)

2023.12.24 - 2023.12.27
Karácsony a Sungarden Hotelben Siófokon (min. 2 éj) 35.500 Ft / fő / éj ártól / félpanziós ellátás / közös karácsonyfa díszítés / wellness világ használata / wellness kupon / ingyenes Wifi /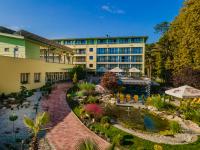 ✔️ Szilveszteri akció Siófokon a Hotel Sungardenben (min. 3 night)

2023.12.29 - 2024.01.02
Szilveszteri akció Siófokon a Hotel Sungardenben (min. 3 éj) 51.900 Ft / fő / éj ártól / félpanziós ellátás / wellness világ használata / fürdőköpeny használat / ingyenes Wifi /