✔️ Ibis Styles Budapest Center ***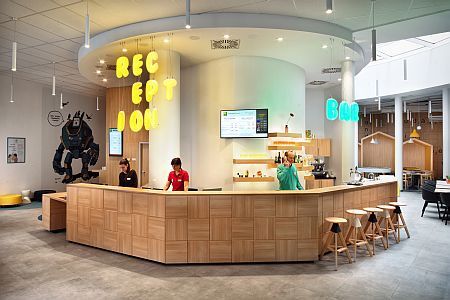 Ibis Styles Budapest Center *** Affordable Hotel in Budapest

The hotel was built for the Millenium Celebrations, the tradicional facade hides a recently refurbished interior with all modern conveniens.
Ibis Styles Budapest Center is located in the heart of Budapest, close to the most crucial tourist attractions, ruin pubs, shopping centers, nearby to the Keleti railway station and only few steps away from the nearest underground station. Thanks to this convenient location, the public transport options are available 24 hours a day. You can take your whole family to our hotel, but even the inner child in you. Thanks to the unique interior decorations you will enter a world of games and feel like in your youth. Join the game!
ACCOMMODATION
Ibis Styles Budapest Center offers 130 inspiring rooms: 81 design double rooms including 14 family and 8 connecting rooms, 49 design twin rooms containing 3 disabled rooms. The rooms are equipped with LCD TVs with satellite channels and high speed WiFi access.
The hotel is 100% smoke free.
BREAKFAST
The restaurant (all-you-can-eat breakfast) is open from 6:30 to 10 a.m. during the week and from 7 to 11 a.m. on weekends.
The Lobby Bar is open till 11 p.m. offering a various selection of drinks and snacks. Take it Easy food corner is open 24/7 offering snacks and beverages for take away.
CONFERENCE ROOMS
Ibis Styles Budapest Center Hotel offers three conference rooms. These modern spaces are perfectly adjusted to organize conferences, training courses and business meetings. All are equipped not only with devices essential for such events, but with the broadband internet access.
NEARBY
M2 metro station - 150 m
Keleti railway station - 1,5 km
Nyugati railway station - 2 km
National airport Liszt Ferenc - 20 km
Other hotels in Budapest operated by the management