✔️ Hotel Novotel Budapest Centrum ****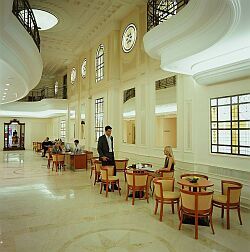 Novotel Budapest Centrum**** Palace hotel Budapest
Opened in August 2002.
Location:
The Novotel Centrum is situated in the centre of the city, in the crossing of the Grand Boulevard and Rákóczi Street.
The hotel consists of two wings: a renewed, protected wing and a modern extension, built in the Art Nouveau style.
The hotel is only a few minutes from the cultural and commercial parts of the capital.
Hotel Novotel Budapest Centrum rooms:
The Novotel hotel offers 227 rooms on 6 floors. The rooms, furnished according to the latest Novotel style, are equipped with air-conditioning and heat- and sound insulation. All rooms have bathroom with bath (in the new wing with separate toilettes) and with balconies in the old wing.
Three rooms provide total comfort for disabled guests with attached rooms for their companions. There are 12 connected rooms for families and 117 rooms for non-smokers.
All bedrooms feature: spacious work and relaxation area, smoke detector, loop facility, safe, TV-radio sets with 24 satellite and 4 pay-film and 6 music channels and modem point.
Budapest Novotel Centrum gastronomy:
The restaurant offers dishes of both the French and Hungarian cuisine and a delicious breakfast-buffet. Permanent seasonal offers, excellent wine-selection, children's meal.
Lobby Bar offers alcoholic and soft mixed drinks, cakes, appetisers, coffee and tea.
Novotel Centrum Budapest other services:
Well-equipped fitness room.
Not far from the hotel in a nice park possibility of jogging.
Novotel Centrum meeting facilities:
5 air-conditioned meeting rooms approachable directly from the street, with a max. capacity of 400 persons.

Other Novotel hotels in Budapest operated by the management: